Vision
Vision Statement
To make the Menchie's experience available to every guest all over the world as a legacy for generations to come
Mission Statement
We make you smile
Values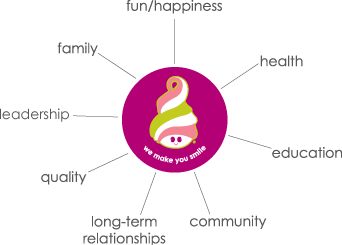 The Menchie's Brand Document
Within the next 20 years Menchie's will be a worldwide network of identical frozen yogurt stores, serving the highest quality product with the highest level of service while creating a happy experience for every guest. It will exceed $1 billion in sales and have more than 2,000 stores globally.
Guests will be able to go to Menchie's anywhere in the world and enjoy exactly the same experience every time: quality service, a quality product, a happy environment, a warm and friendly design, and cleanliness. Menchie's is designed to serve all ethnic and economic classes. Although all types of people will be attracted to Menchie's, it will appeal primarily to families with children and people who seek a happy, friendly frozen dessert experience with the ability to have the freedom of crafting their desires.
Every aspect of Menchie's will be standardized and tightly controlled. The menu at every store will consist of various yogurt flavors, dry goods, and fresh fruits that are partly adapted to the local market. There will also be a limited number of other items, and branded merchandise that will enhance the guest experience and develop the love for the brand in every guest.
The Menchie's strategy will unilaterally redefine, differentiate and elevate the perceived value of our guest's in-store experience within the frozen dessert category. This will include stretching conventional thinking and boundaries by creating an experience that extends the brand beyond the product. Our guests will frequent our stores to seek added value multi-dimensional experiences that exist beyond and outside the core product realm. We will cultivate and set the tone of our category. There can only be one leader.
Menchie's will be designed for efficiency, cleanliness, attractiveness and guest self-service. Stores will have five areas: kitchen (not visible to guests), yogurt wall, topping stations, service circle and indoor/ outdoor seating. Team members will wear uniforms, follow exactly the same procedures, and will emphasize service, friendliness and above all, guest satisfaction.